Combustible Dust Solutions
SonicAire combustible dust fans provide safety, economic and regulatory compliance solutions to facilities that generate fugitive dust and lint, including wood products and furniture manufacturing; paper making, paper products production and recycling; plastics processing, finishing and recycling; textiles and nonwoven fabrics production; laundry facilities; food and grain processing; and multiple other industries.
Reduce Overhead Dust Accumulation
Using our proprietary technology, only SonicAire fans can robotically reduce fugitive dust accumulation in the first place. How it works: High velocity, high mass airflow from a robotic clean fan creates an overhead barrier. BarrierAire™ technology controls the direction of the dust and forces it to the floor by preventing upward currents and stagnant air that keeps dust in suspension, preventing accumulation of fugitive dust in overhead and hard-to-reach places. The result? Dust is prevented from accumulating in overhead areas.
Improve Plant Safety
SonicAire fans avoid the need for high-risk manual cleaning efforts. Combustible dust fans reduce or eliminate having employees climb into hard-to-reach overhead areas.
Comply with Safety and Health Regulations
This proactive solution helps maintain a clean work environment in compliance with OSHA and NFPA regulations. NFPA 652 identifies SonicAire's proven technology as an approved housekeeping system to prevent dust accumulation.
Maximize Productivity
Dust control fans keep employees focused on production while dust is prevented from accumulating in overhead areas. The investment in SonicAire fans pays off by allowing you to reduce your manual housekeeping expense budget, reduce operational downtime required for overhead cleaning and potentially reduce insurance rates.
We are committed to helping you control fugitive dust and giving you a customized, engineered solution specific to your facility.
Before you purchase our fans, our team of experts will consult with you to develop a customized, engineered layout of SonicAire fans for your facility. Based on client-provided facility blueprints, our team will determine the right fan placement to create ideal air patterns specific to your needs, ensuring optimal performance for your facility.
We consider this to be one of the biggest differentiators for SonicAire.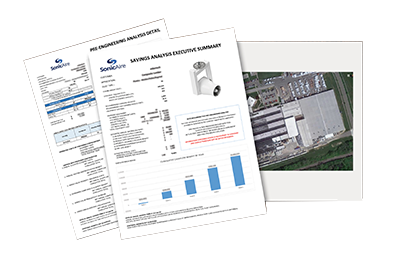 SonicAire is committed to helping our clients tackle combustible dust in their facilities. We will review your facility specifications and develop a custom analysis of how SonicAire fans can use our BarrierAire™ technology to reduce combustible dust accumulation, improve worker safety and productivity and keep your facility compliant with OSHA and NFPA regulations.
Our analysis will also show you the expected Return on Investment, including equipment investment, estimated annual savings and cumulative cashflow benefit.
Get started by contacting us today for your custom facility review, ROI analysis and fan technology proposal.