Facilities have until September 7, 2020 to comply with the requirements of NFPA 652. Is your business prepared for this deadline? SonicAire can help. Here's an overview of the updated standard and the steps you can take to ensure that your operations will be in compliance with the updated regulations.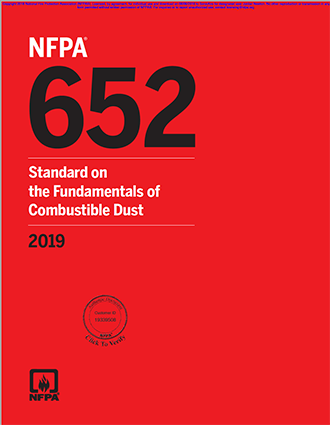 What is NFPA 652?
This National Fire Protection Association standard outlines the requirements for the management of fire and explosion hazards related to combustible dusts. Updated from its previous version, the 2019 NFPA 652 requires facilities to complete a dust hazard analysis (DHA), demonstrate progress in completing a DHA in years leading up to the deadline, and continue to review and update the DHA every five years.
This standard is the go-to source for facility managers, inspectors, safety personnel, contractors and engineers for handling combustible dust safety in any industry.
What is combustible dust?
NFPA 652 defines combustible dust as "a finely divided combustible particulate solid that presents a flash fire hazard or explosion hazard when suspended in air or the process-specific oxidizing medium over a range of concentrations."
What is a DHA?
A Dust Hazard Analysis is a facility review that examines all areas where combustible dust is present. This analysis identifies hazards as related to explosions and fires. A DHA categorizes each area of the facility as Not a Hazard, Might Be a Hazard, or Deflagration Hazard. If any hazard areas are identified, the facility must define safe operating ranges, list any existing hazard management methods, and identify additional options to consider for future hazard management.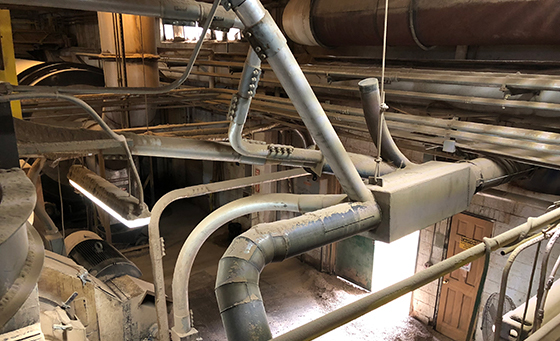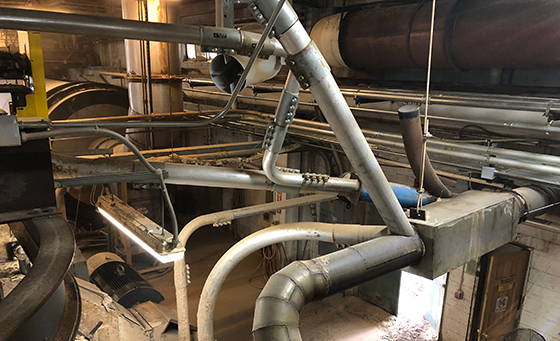 Who must meet this standard?
NFPA 652 pertains to all industries that include processes that can generate combustible dust, although it specifically addresses the metal, agricultural, chemical and wood processing industries. According to OSHA, the risk of combustible dust explosions is present in a wide range of industries, including those that process food, grain, tobacco, paper, rubber, dyes, plastics, pesticides, metals, pharmaceuticals and pulp.
Why is this standard necessary?
Between 2008 and 2012, 50 dust-related explosion incidents occurred in the United States. In the past four decades, more than 1,000 workers have been injured and another 185 killed in combustible dust events. To prevent future tragedies, the NFPA has established standards that are designed to keep facility conditions safe. By adhering to these requirements, facilities can reduce their risk of deadly dust events.
How can facilities comply with NFPA 652?
NFPA 652 includes hazard management steps for mitigation and prevention. These sections cover several topics, including guidelines for equipment design and continuous dust control. Included here are industrial dust control fans such as those made by SonicAire. (See NFPA 652 Chapter 9.)
This engineered solution is the ideal option for organizations seeking to improve housekeeping and align their practices with NFPA standards. SonicAire can design a customized dust control solution for any facility, placing fans strategically for optimal results.
How do SonicAire industrial dust control fans work?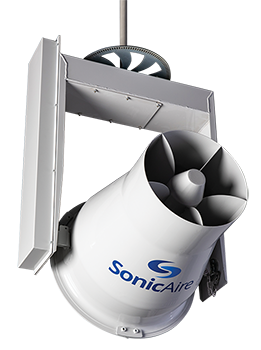 SonicAire industrial dust control fans use BarrierAire™ technology to control dust flow and reduce the risk of combustible dust events. This technology uses thermal-current control to prevent currents from holding dust in the air. The fans combine this control with high-velocity airflow, which cleans overhead areas and prevents the accumulation of combustible dust particles on overhead surfaces. As mentioned in NFPA 652, SonicAire fans are an effective solution to control dust and mitigate risk.
By installing these fans, facilities can quickly bring their high-dust areas into compliance with NFPA standards. Because these standards are used by OSHA as part of their inspection requirements, adhering to NPFA guidelines will not only increase safety, but it will also prevent the steep fines which can be assessed by OSHA.
Are you ready for the deadline?
As the global leader in this arena, SonicAire can partner with you to prepare your facility for the NFPA deadline. Our innovative engineering designs help prevent hazardous conditions and create a cleaner, healthier and more efficient work environment for your operations. Our dedicated team can recommend the ideal fan system for your operations, creating a customized solution to meet the NFPA standard and help you prevent dangerous dust explosions at your site.
To make sure your business is compliant by the September 7, 2020 deadline, contact SonicAire today for a personally engineered solution and quote.