New, Enhanced Fans = Improved Dust Control
SonicAire is committed to continuous innovation. Our goal is your safety and business success. To that end, we have improved the design of our industrial dust control fan systems to further improve their function for our customers. Our engineers have designed a new line of high-performance fans that offer greater efficiency and quieter operation.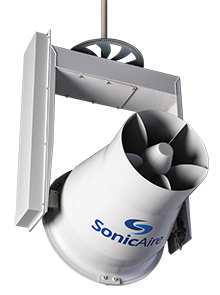 What's New?
Whether you are battling dust, lint, fiber, powder or other fine particles, SonicAire fans effectively prevent build-up in overhead areas in your facility.
Our new, enhanced fans include multiple high-performance features:
Full 360-degree rotation – We make sure fugitive dust can't sneak up on you. With a comprehensive range, these fans prevent dust accumulation in every direction.
Adjustable vertical oscillation – Additional flexibility ensures fans can keep even hard-to-reach areas dust-free.
Continuous operation – Fans never clock out at the end of a shift or take a vacation day. Ongoing dust removal keeps your facility consistently clean.
Fire, alarm and process system interface – Integrate fans with other systems for enhanced safety and operations.
1 and 2 HP options – We will recommend the power that makes sense for your setting and energy efficiency needs.
Models for standard and harsh industrial environments – Damp location? High temperatures? Class II environment? No problem. SonicAire's latest line of fans includes the right fan for you.
Meet the New Models
Pro Series: Ideal for typical manufacturing environments that produce dust, the Pro Series includes designs for both standard and compact spaces.
Extreme Series: Uniquely designed for harsh environments industrial dust control for high-temperature areas, damp locations, and Class II, Division 2 settings.
Command Series: Control systems to streamline fan operations for convenience and efficiency and can be integrated with existing facility process controls. Features include variable speed control, timer, emergency stop and interface with fire and alarm systems.
What's the Same?
Of course, not everything has changed. We still provide engineered solutions specifically tailored for each facility. Our engineers partner with you to understand your dust control requirements to strategically place the appropriate models where needed.
These experts factor the size, shape and use of the space to determine the best application of SonicAire's proprietary technology. By creating a design based on the location's specific characteristics and needs, SonicAire effectively keeps overhead areas clean, safe and compliant.
"I constantly get comments. It's good for our employees, good for our customers and good for business."
– Jim Buchbinder, Director of Commonwealth Linen
What's Next?
You can start reaping the benefits of the latest line of SonicAire industrial dust control fans right away. These latest combustible dust solutions prevent dust accumulation and keep your facility OSHA compliant.
"We're amazed at how clean the overhead areas are staying…the SonicAire fans make our plant much safer."
– Andy Galis, Operations Manager, Greene Team
For more details or to schedule a consultation, contact your regional manager or reach out to our dust control experts at moreinfo@sonicaire.com.
Special Offer: Upgrade Old Fans with New Technology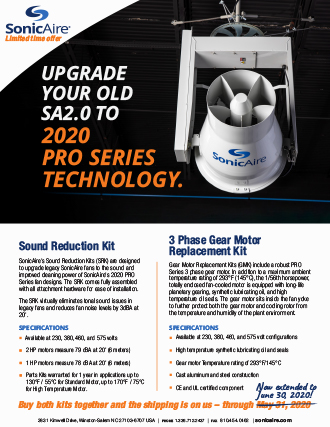 Happy with your existing fans? Great! If you're not ready to upgrade to the new series, add a kit to bring legacy fans up to the latest design performance. Two upgrades are now available.
Sound Reduction Kit
SonicAire's Sound Reduction Kit (SRK) virtually eliminates tonal sound issues in legacy fans. The kit comes fully assembled for ease of installation and reduces fan noise levels by 3dBA at 20'. Available at 230, 380, 460, and 575 volts, in one and two HP models, with a 1-year limited warranty.
3-Phase Gear Motor Replacement Kit
The Gear Motor Replacement Kit (GMR) kit gives your legacy fan a robust PRO Series 3-phase gear motor. The fully enclosed fan-cooled motor is equipped with long-life planetary gearing, synthetic lubricating oil and high temperature oil seals. The gear motor is located inside the fan yoke for additional protection from high temperatures and humidity. Available in 230, 380, 460 and 575 volt configurations, featuring cast aluminum and steel construction.
Get more information on the SRK and GMRK.
Limited-Time Offer
Buy both kits now and the shipping is on us! Don't miss it – this special offer has been extended to June 30, 2020.
And…if you've had your fans less than one year, you may be eligible for special pricing on the kits. Contact your SonicAire regional manager or inquire at moreinfo@sonicaire.com.
Are You Ready? NFPA 652 Deadline Approaches
Your facility has until September 7, 2020 to comply with the dust hazard analysis (DHA) requirements of NFPA 652. This standard outlines the requirements for the management of fire and explosion hazards related to combustible dust. It applies to all industries that include processes that can generate combustible dust.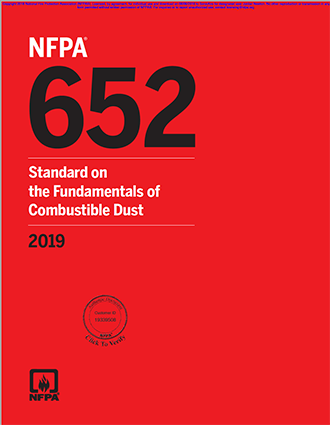 To comply, you must complete a DHA, demonstrate progress in completing a DHA in years leading up to the deadline and continue to review and update the DHA every five years.
A DHA is a review that examines all facility areas where combustible dust is present and identifies hazards as related to explosions and fires. If any hazard areas are identified, the facility must complete the analysis by defining safe operating ranges, listing existing hazard management methods, and identifying options for future hazard management.
NPFA 652 also includes guidelines for equipment that can provide effective dust control to help meet the standard. Included in these hazard management steps are industrial dust control fan systems such as those made by SonicAire. These effective solutions are ideal for improving housekeeping and aligning practices with NFPA standards.