When you work with wood, sawdust in inevitable. It's in the air. It's on every surface. It gathers in the rafters. Due to the nature of the industry, wood workers face a significant challenge: how to handle the accumulation of combustible dust.While the idea of a little dust may sound trivial, this issue is far from trifling. The build-up of sawdust in wood-working facilities can be extremely hazardous. The U.S. Chemical Safety Board (CSB) reported a total of 119 fatalities due to combustible dust incidents between 1980 and 2006. Another 1,000+ workers were injured between 1980 and 2017 in combustible dust events. More than half of the incidents reported in the 2006 stats occurred in the lumber/wood product, food and chemical manufacturing industries.
What's So Dangerous?
As wood processing generates sawdust, these particles build up on ceiling structures. The fine specks can also accumulate in a suspended cloud of dust. When this cloud becomes trapped and an ignition source is present, the combustible dust is ignited. The high-surface-area sawdust particles provide the perfect fodder for flames. The resulting fire and potential explosions can be devastating.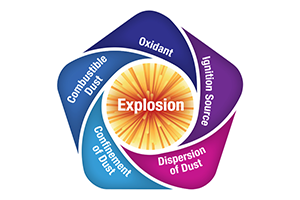 Facilities that don't experience these destructive events may still suffer consequences. Due to the risk of combustible dust, OSHA maintains regulations regarding its management. Wood industry professionals can face steep fines if their facilities do not meet these standards.
What's the Solution?
To maintain safe, clean surroundings, wood industry facility operators must properly manage combustible dust. One solution is to manually clean the overhead areas regularly. While this can prevent the accumulation of combustible dust, it poses its own challenges.
First, this task is extremely time consuming. The labor-intensive chore can eat away at labor budgets and pull much-needed resources away from other projects. Second, this task can be dangerous. Workers must scale ladders, climb scaffolding, or use other techniques to reach hard-to-access areas for cleaning.
With so much effort and risk involved, managing combustible dust can prove to be a heavy burden for wood industry professionals. Fortunately, resourceful facility operators have found a better solution: SonicAire.
SonicAire Proves Key to Solving Wood Industry Combustible Dust Challenges
Greene Team Pellet Fuel Company was struggling with the challenge of dust accumulation and turned to SonicAire for an effective solution. At their facility, local sawmills deliver fresh sawdust daily, which is then processed into wood pellets fuel. This production naturally generates considerable amounts of combustible dust. They installed five SonicAire fans in their facility and were impressed with the results.
Andy Galis, Operations Manager, reports, "The SonicAire fans are working really, really well. There are several sawmills near us that should absolutely have your system in place. I would be willing to join you on a site visit, because I believe that much in your product and I care about their facilities as much as our own."
In Niles, MI, Kamps Pallets is reaping the benefits of SonicAire combustible dust control fans. Several years ago, the facility faced financial challenges and needed to adjust their methods to move their operations forward. One of the changes they have made is their approach to combustible dust control.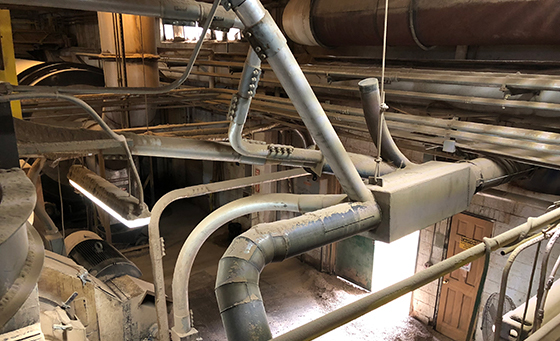 Before (above) and after (below) use of SonicAire fans, showing the effect of removing combustible dust accumulation.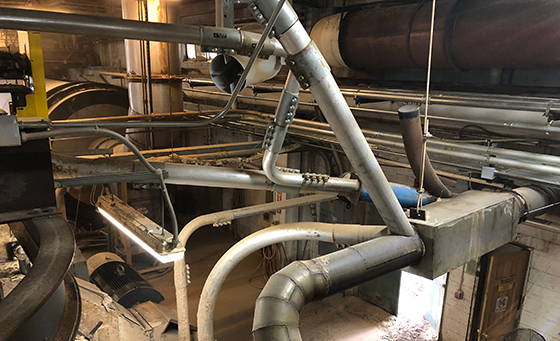 The facility installed fans down the center of each of their buildings. Plant manager Jeff Hill notes, "These fans have done really well for us. They keep all the dust down from the rafters onto the ground, which makes housekeeping much easier. The SonicAire fans improve fire prevention at the plant because the fine wood dust that used to collect in the rafters is combustible."
Hill reported that the day after the fans were installed, the fans had removed so much dust it looked like a snowstorm had hit inside the facility. These effective machines have been helping keep the plant cleaner and safer ever since. After making this and other smart business decisions, Kamps Pallets has grown from a small, family-owned business into a national supplier serving major markets across the nation.
Kent Moore Cabinets VP Jack Moreno reports similar results at his facility. Prior to SonicAire fans, they had a serious problem with dust accumulation. Moreno reports, "It looked like the building had been vacant, with all the dust webs present. We were cleaning by hand but had to find the time and manpower. Since installation, we've seen a drastic improvement." He adds, "Visitors to the plant are amazed at how clean we have that area."
Moreno admits to trying an experiment: he temporarily turned off the fans after installation. He notes, "I was amazed at how quickly the dust accumulated."
Would he recommend SonicAire for other facilities? Yes. Moreno says, "It's unbelievable the amount of labor savings and other things that go along with it. It's impressive. When you think about the man hours it takes to clean that facility and to get it clean like the SonicAire fans maintain it for you – you see the payback very quickly."
The SonicAire Solution
SonicAire partners with wood industry professionals to reduce risk and enhance safety in their facilities. Our proactive dust control fans are designed to eliminate overhead combustible dust problems. Using proprietary technology, SonicAire industrial dust fans are engineered to provide thermal-current control and high-velocity airflow which prevent dust accumulation and combustible dust events. This solution maximizes results while minimizing cost.
To join the growing number of wood industry professionals who are enjoying the benefits of SonicAire combustible dust control fans, contact our team for a custom solution and quote.