Grain processors are becoming increasingly aware of the safety standards in place regarding combustible dust, including NFPA (National Fire Protection Association) regulations and in particular the requirements for conducting a dust handling analysis (DHA) within their facilities. The news that's transforming the industry is about an effective housekeeping solution that is available to help grain professionals comply with these requirements.
"The fact is, effective combustible dust management requires more than dust collection systems and a plan to clean the overheads once a month – which may or may not happen," says Michael Beaver, Midwest Territory Sales Manager for SonicAire.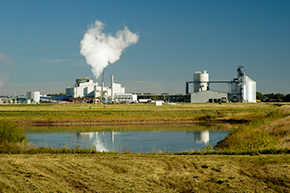 With more than a decade of involvement in dust collection in the agricultural industry, Beaver brings in-depth knowledge of these issues to the table. He notes, "Grain handling creates an environment that is susceptible to dust explosions. Several aspects of this industry create a risk for combustible dust events. The loading and processing of grains generates a significant amount of dust. A spark from a bucket elevator can cause a primary explosion possibly leading to a secondary explosion of dust that has accumulated in a space."
Combustible Grain Dust Events Then and Now:
A Long-Standing Issue
Then:
May 2, 1878: A build-up of flour dust leads to the explosion of Washburn 'A' Mill in Minnesota, killing 18.
Now:
June 27, 2019: A grain dust explosion occurs at a grain processing facility in Pekin, IL. Explosions in the grain elevator lead to a burned elevator belt which releases its own fire.
"Until we reach the goal of zero grain dust explosions, the effort of increasing awareness of grain dust hazards, preventive tools, and best practices will continue."
– Worldgrain.com
How high is the risk in grain-handling settings?
In the past four decades, more than 1,000 workers have been injured and another 185 killed in combustible dust events. In 2018 alone, there were 12 grain dust explosions.
Beaver explains, "Any type of grain storage facility or milling operation, whether it be handling corn, soybeans or wheat, experiences heavy dust accumulation. I've seen a rail car pull into a facility to receive a load of corn grits. In minutes, the space turns into a cloud of dust. If an entire train is loaded, you can get two to three inches of dust accumulation from just one shipment."
What are grain handlers to do?
Fortunately, grain facility managers have not been left in the dust to work through these housekeeping issues. Industrial dust control fans, such as those from SonicAire, have proven to provide an effective solution to the dust accumulation experienced in grain storage and grain processing facilities.
These fans use BarrierAire™ technology to control dust flow and reduce the risk of combustible dust events. The fans combine high-velocity air flow and thermal-current control to clean overhead areas, prevent the accumulation of combustible dust particles, and prevent currents from holding dust in the air. The end result: effective, efficient housekeeping that helps reduce the risk of combustible dust events and keep facilities compliant with OSHA and NFPA regulations.
"This is an ideal solution for all areas where dust management is needed in the grain industry," reports Beaver. "The fans can be installed throughout the facility to create an engineered solution that helps keep the setting clean and safe."
"The best practice for grain handlers is good housekeeping," Beaver continues. "Proper upkeep to maintain a clean, safe environment for the employees is top priority, and this solution aligns perfectly with those practices."
The SonicAire solution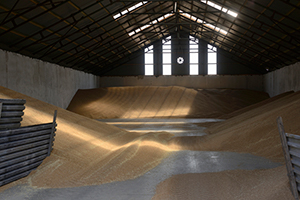 Dust collectors and manual overhead maintenance programs aren't always enough to keep grain facilities safe, states Beaver. "Operational efforts might not work well to complete the cleaning, whereas the fans are always going to be there 24/7. This engineered solution provides the technology needed to keep the environment safe from explosive dust."
As the global leader in industrial dust control, SonicAire provides customized solutions specific to each grain facility. Applying proprietary technology, our dedicated team recommends the ideal fan system for each operation. The result is a system that is engineered to effectively eliminate dust accumulation, prevent dust explosions and create a safer work environment for employees.
To reduce combustible dust risk at your facility, contact the industry leaders at SonicAire for a custom solution and quote.