Americans continue to leave their jobs in record-setting droves. According to the Labor Department, that number reached 4.5 million in November, up from 4.2 million in the month before. While we continue to see people leaving their jobs, the employment rate remains low (4.2% in November). And the actual net employment increase was 5.9 million.
This period has frequently been referred to as the Great Resignation, but it appears to be more of a reshuffling as people leave positions for other opportunities. What we call it doesn't matter at the end of the day. What does is how we deal with the constant turnover and hiring struggles.
Not only does it create a strain on production and supply chain, but also it leaves managers, hiring departments, and the employees still remaining frustrated and exhausted. Production and revenue driving operations are clearly going to be the priority for organizations. But compliance regulations such as NFPA 652 aren't going away just because of staffing issues.
According to an article on the Powder and Bulk Engineering site, "NFPA specifies that scheduled housekeeping should occur frequently enough to prevent fugitive dust from exceeding the accumulation limit, and unscheduled housekeeping should occur as necessary to clean up dust spills or transient releases."
As we've mentioned previously, the most common method of cleaning fugitive dust is manual housekeeping. So, what does this look like for most organizations?
Operations shut down (or management schedules cleanings during existing downtime)

Employees scissor lift into the ceiling area

Dust on overhead spaces is blown down or brushed down

Once settled, employees sweep up the dust
Depending on the amount of fugitive dust created, this sequence could repeat once a week or less frequently. In the best of times, this isn't necessarily an issue as companies can always find someone who's willing to work overtime or on weekends.
But with shortages and high turnover, finding staff to clean is becoming even more difficult. Current employees are needed to keep operations up and running as much as possible. Meanwhile, management is always on the lookout for additional staff as existing personnel could leave at any time.
So, where does this leave plants and facilities? Here are six different options for facilities experiencing staffing shortages.
1. Don't Clean. At All.
This is a risky choice for several reasons. First, there's the concern of fines for non-compliance. An OSHA visit could cost you considerably more than occasionally shutting down your plant. Then there's the safety risk. A combustible dust event is usually catastrophic. Failure to clean dust buildup puts your facility and, more importantly, your employees at risk. It's not hard to see that this isn't the best option.
2. Clean Less Frequently.
At this point, you probably have a good idea of how often you need to clean to stay in compliance. For many facilities, lack of staff and high demand for product may stretch out the cleaning frequency. Instead of monthly cleanings, facilities may opt to clean quarterly. Unfortunately, this still puts you at risk. While it's less likely you'll be hit with a fine, a combustible dust event is still a possibility and one you'll want to avoid.
3. Find Temporary Workers.
If your regular staff isn't available to clean, there may be some temporary contract employees you can bring in. You'll likely pay a premium for short-term work, but at least you can maintain cleaning schedules. Additionally, you'll need to train this temporary staff which will require some oversight and management. If you bring in different people, consistency could be an issue, and you'll have to hire and train continually.
4. Hire a Third-Party Cleaning Firm.
Outsourcing might be your best cleaning option if you don't have the internal staff. Unfortunately, this is easily the most expensive option. You'll need to shut down operations, schedule the cleaning firm, and then get operations back up and running. Depending upon your cleaning schedule, cleaning costs could add up, costing you tens, even hundreds of thousands of dollars each year. This may be a short-term fix, but the impact on profitability will become an issue in the long run.
5. Pay Overtime.
If you can't fit cleaning into your regular work schedules, you may have to pay workers overtime to come in and clean. This may be an option for those facilities that aren't running 24/7. But this too can be expensive as you're paying extra for work that isn't generating revenue. And if you are running three shifts around the clock, there isn't any time to make this an option.

6.  Prevent Dust Buildup.

If you don't have fugitive dust buildup, you don't have to clean. Dust is inevitable. But accumulation in overhead and hard-to-reach areas doesn't have to be. Using dust control fans keeps dust from reaching these spaces making cleanup a breeze. All staff has to do is occasionally sweep up dust from the floor when they have a free moment. Or use an auto sweeper/scrubber to clean the floors. This may seem like the most expensive option. It does come with an initial investment, however, the long-term savings in cleaning expenses and shutdowns pays for these products in a matter of months. Plus, it eliminates the headaches of scheduling and staffing housekeeping. We're so confident in our products' ability to solve your cleaning problems that we're now offering you the SonicAire Compliance Guarantee.


Of course, at SonicAire, we're partial to the final option. We believe the best way to deal with fugitive dust is to prevent it from being a nuisance in the first place. That's why we offer customers a free dust management plan with ROI analysis. You'll see exactly what's necessary to prevent dust buildup and how quickly you'll pay off your investment.
Visit SonicAire.com/ROI to request your plan and eliminate the painful process of manual dust cleanings in your facility.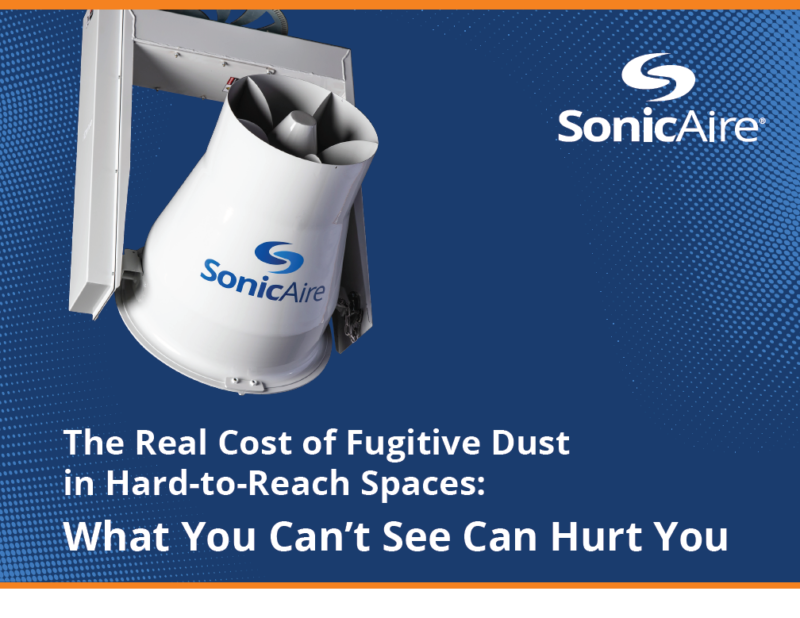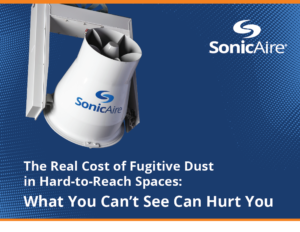 GET YOUR FREE GUIDE:
The Real Cost of Fugitive Dust in Hard-to-Reach Spaces
What You Can't See Can Hurt You
To help protect your workplace, we've compiled the following resource, The Real Cost of Fugitive Dust in Hard-to-Reach Spaces: What You Can't See Can Hurt You. In it, we identify seven ways fugitive dust is likely impacting your facility and its profitability.
These costs go beyond housekeeping and explain why you should be preventing dust buildup to protect the bottom line, not just to stay in compliance.